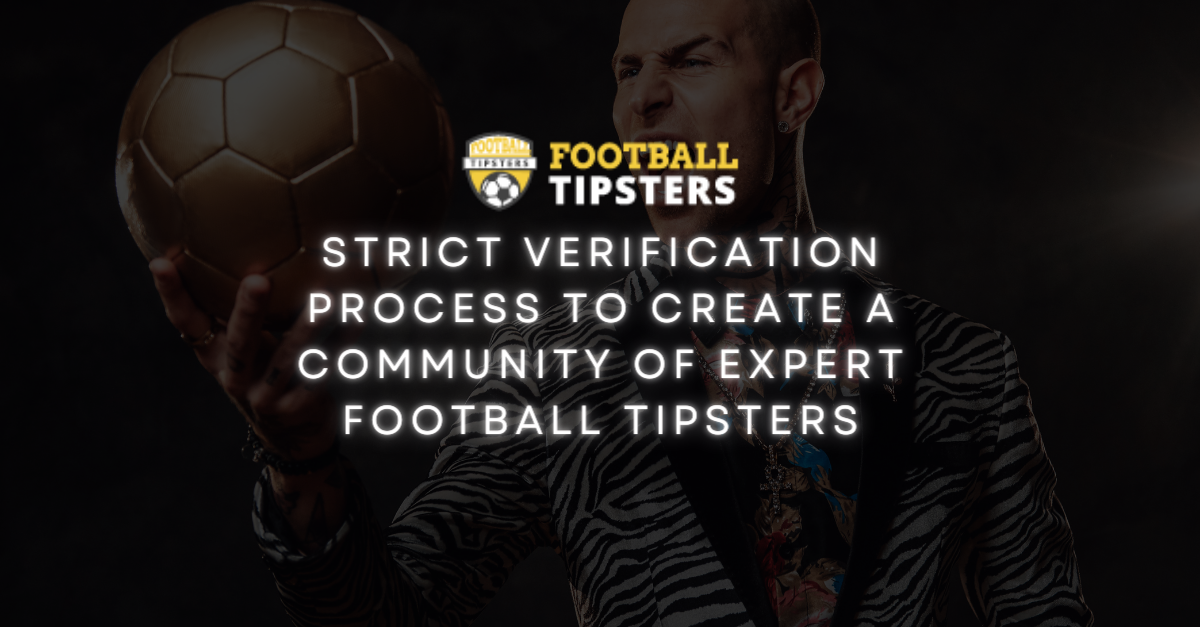 Strict Verification Process To Create A Community Of Expert Football Tipsters
Footballtipsters Community Of Expert Football Tipsters
Most fields that claim an individual is an expert require examinations, testing, and experience in that field. An expert investor has years of experience, is qualified, certified, and registered as an expert who can advise other investors in investing matters. Like investors, tipsters serve an essential niche in football betting by helping connect punters to the right wagers and betting situations. However, even football tipsters need to be qualified and verified before they can give punters expert recommendations on chances. Any financial advice requires a strict vetting process and safeguards to protect the receiver of such financial advice.
The Verification Process of Football Tipsters
The verification and vetting process of tipsters on football tipsters includes an efficient and in-depth background check, a measure of consistency, measurement, and comparison of performance to benchmarks, the experience of the tipster, the qualified level of a tipster, and the quality of tips provided by the tipster regularly.
1. Background Check
The background check is usually the first and the most crucial step in a tipster's verification and vetting process. A background check ensures all the credentials a tipster provides, including but not limited to the tipster's name, education, past work experience, certifications, the accuracy of predictions, and research methods and analysis, are accurate. If a tipster's background check raises red flags such as lousy expert advice, previous experience of misleading clients, or criminal cases, then the tipster is not hired by the platform. Only the best tipsters are selected to list paid tips on the football tipsters platform with several tipster applications.
2. Consistency
Consistency is the second most critical metric that tipsters need to qualify as football experts. Character is essential because any punter can fluke a few correct predictions. Consider a tipster with two accounts that makes one prediction on one bill and the exact opposite prediction with another account. The tipster ensures they make one correct prediction out of every two predictions across two funds. A consistent tipster doesn't rely on luck but skill to accurately predict the outcome of wagers.
3. Performance
The tipster's performance is measured once a tipster is getting onboarded but is not yet a verified tipster. A tipster is required to produce high-level performance metrics when making football predictions. Metrics are essential to punters making wagers based on those critical metrics because it gives a punter a gauge of how a tipster is expected to perform. However, this is based on the premise that past performance dictates future results. While this may be the case in most instances, tipsters' results can deviate from time to time from past performance.
4. Experience
A tipster's experience is another crucial metric to punters making football wagers. If two tipsters use the same analysis, metrics, predictions, betting markets, and betting software, the tipster with more experience edges out with lesser experience. In football, past results can dictate the future performance of teams across leagues. Punters can leverage performance information of tipsters with several years of experience in that league versus a punter with less than three years of tipping experience in the society.
5. Level Of a Tipster
The level of the tipster dictates the tip's quality, the accuracy of the information, and the price required to acquire the lead. For reference, tipsters are categorized into junior tipsters for tipsters with the lowest experience but also the most insufficient accuracy or hit rates. Senior tipsters have more experience and consistency but are slightly more expensive than junior. Premium tipsters are more costly than senior tipsters and have the highest character among all the tipsters listed on the platform. Bundle tipsters wrap up tips on several games into a single end and are best for punters making more than five wagers at a single time.
6. Quality
The quality and quality of tips ensure that punters have access to football tips for games across leagues in different countries. Generally, as the number of something increases, the rate can decrease. However, the best tipsters are listed on the football tipsters platform through a strict verification and vetting process. With each tipster a specialist in their market or league, punters can always remain confident in the quality and variety of football tips.