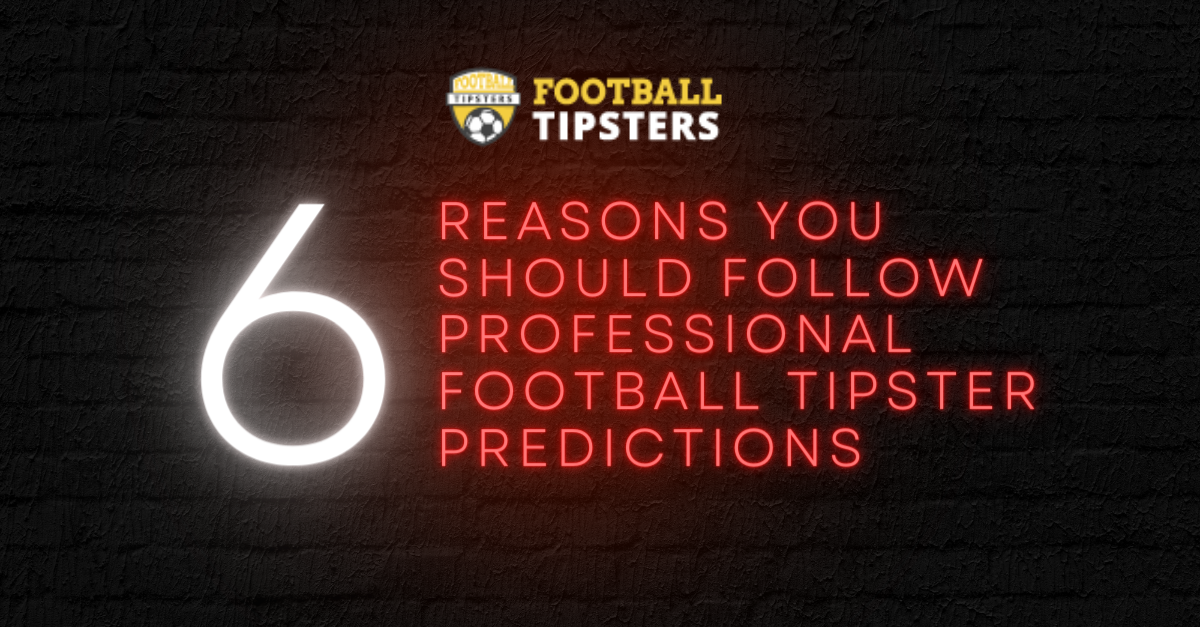 Six (6) Reasons You Should Follow Professional Football Tipster Predictions
Reasons You Should Follow Professional Football Tipster Predictions
Punters have several methods and tactics when making football wagers, each with varying degrees of success. For example, a punter can learn how to use betting software and statistical methods in betting, create prediction models, search for value betting situations, compare different odds by different providers, conduct analysis of match outcomes, and much more. All these tasks can overwhelm a punter new to making wagers, and this is where punters can benefit by utilizing professional football tipster predictions. Professional football tipster predictions help punters find the best wagers without the time and energy to research. In essence, a punter outsources the aspects of betting that are the most challenging and time-consuming while focusing on selecting and making wagers. A punter can always learn how to research and make football predictions. However, it's a process that takes time and years to perfect. Using tipsters, punters can leverage years of knowledge today and learn how to make their predictions based on expert tipster predictions.
Why You Should Follow Football Tipster Predictions
The top 6 reasons punters should follow professional football tipster predictions include access to free and paid tips, better consistency, access to a broader range of wagers from around the globe, statistical modeling and research, and access to verified tipsters.
1. Free And Paid tips
Free tips are tips that punters can access accessible by signing up with a platform and requiring no payment. All punters that want to access free tips have access to the same information for a specific list of games. Unlike paid tips, a punter cannot choose which game or specific betting market they can select a free tip from. Punters can also pay for professional tips called paid tips which require a punter to make a payment to access such tips. Paid tips enable punters to select which tips they want to access, the tipster they wish to access, the level of a paid tipster, and other tipster features. Both free and paid tips come with their advantages and disadvantages. However, the most successful punters utilize a combination of paid and free tips to make the most successful football wagering decisions.
2. Better Consistency
Punters that utilize tipsters when making wagers tend to be more consistent than punters who don't use any tipster or football, betting expert. For context, a punter may have a 50% win rate across all wagers made, which isn't bad but isn't good either. To make betting a profitable exercise, punters need to win more than they lose. A punter utilizing a junior tipster can increase their win rate from 50% to 65% across a few wagers. Using a senior tipster can increase a punter's win rate to 75% and a professional tipster to 85%.
3. Wider Range Of Wagers
Tipsters generally cover specific games, leagues, or betting markets. When utilizing professional football tipsters for different games across multiple institutions, a punter saves time and resources. Since each tipster is an expert in a particular field, punters can use multiple tipsters at a time, depending on the punter's betting requirements. Punters prefer tipster services that give them an extensive range of betting options, such as betting in the Premier League or the Malaysian football league.
4. Statistical Modeling And Research
Tipsters leverage statistical modeling techniques and research to make football predictions based on raw data. For example, a punter can compare how different teams from different parts of the country perform versus each other in the League. Or a punter can spot a trend where a team traveling for away games midweek loses 9 out of 10 times. Some software tipsters used for modeling include R, Python, SPSS, and Excel.
5. Verified Tips And Tipsters
Punters can ensure that verified and qualified tipsters issue the tips they use. Each tipster is vetted before they're onboarded to list information on football tipsters. While punters have access to a wide range of angles, punters can always have faith that the quality of tips does not deteriorate. Bad actors or unscrupulous tipsters could misle or take advantage of punters without a proper verification process.